PALpack is a UK based company supplying medium to high-speed automatic palletisers, de-palletising systems as well as case and tray loading machinery. As a business, we have been involved in palletisers and automated production machinery for over 25 years.
Our founder, Dave Wood, has a lifetime of experience in Engineering, starting his journey as a Mechanical Engineer Apprentice before going on to complete his HND. After his academic training, Dave became a Design Engineer, designing and project managing special purpose machines.
In 2000, Dave started his own company, where he was responsible for designing palletising systems, and after building a reputation as a leading expert in the field of automated and robotic packaging solutions, Dave established PALpack in 2018, to specialise solely in palletisers.
As well as overseeing the installation of palletising and automated handling systems, Dave is also a design engineering consultant, who will help businesses to implement strategies to improve production and workflow to help manufacturers increase efficiencies and reduce costs.
Dave Wood: "I will only recommend machines that are ideal for my client's projects. I focus totally on the solution and will work tirelessly to ensure a perfect outcome. I have carefully chosen partners to work with and I believe that I am working with world leaders in their palletising field. This means, from small medium-speed machines, up to super high-speed machines, the outcome will always be successful"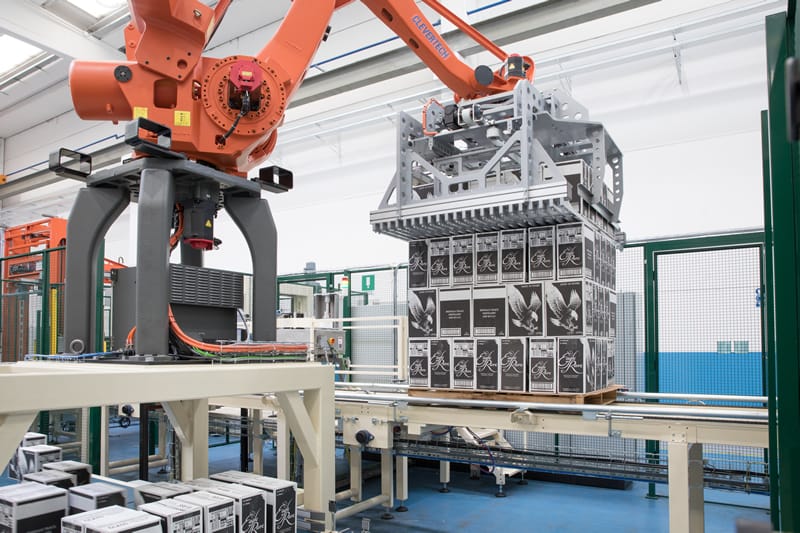 What Our Customers Are Saying
Since our machine was installed last February our line efficiency has improved dramatically with little or no downtime recorded for technical issues and their after sales service is the best we have had from anyone in the 16 years of bottling production. What I like about Dave is that he's not a salesman but someone who has designed and built machines and has a wealth of experience in this field. He won't push something on you if it's not right for your business. I would thoroughly recommend Dave and PALpack to anyone looking for some automatic palletisation on their production lines.
PALPack installed our first purpose-built palletiser. It was our first venture into this level of automation and 10 months later we have just completed our first filling line. We are already seeing some of the required results in terms of reduced manning and everyone is impressed with the quality of the installation and the resulting pallet appearance. I would thouroughly recommend David and PALpack as partners in palletisation particularly for a business that is unfamiliar with this degree of automation.
In 2018 we ordered a large palletising system from Lita Palletisers in Italy. Our palletiser was also supplied with an integrated Tosa pallet wrapper.  I felt confident working with Palpack because their MD Dave Wood is someone I have known for a number of years. Palpack's approach to capital equipment sales, is one of a technical nature and they spent a lot of time measuring our shop floor, ensuring that the new equipment fitted into, what was a tight space. The machine was delivered on a Friday lunchtime, Palpacks engineers were on site waiting for the machine and by Sunday evening the whole system was installed, wired up and ready for commissioning by Lita Technicians. By Tuesday the machine was up and running and in full production. Since installation Palpack's back up and support has been exceptionally good and we are happy to work with Palpack again and we are currently working on a second installation using them.
About Us