PALpack Limited
PALpack are the UK's leading experts in palletising systems, and we are the UK agents for top of the range machinery supplied by European manufacturers.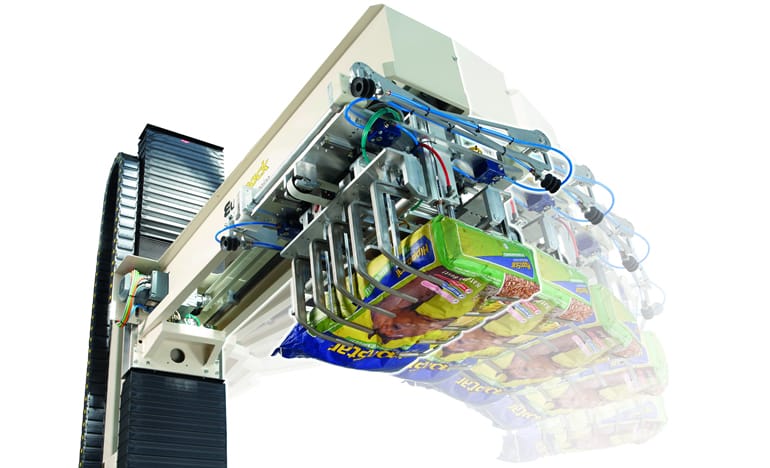 Food
The fast pace world of food production means there's an ever increasing demand on process and packaging. With over 25 years of experience in the industry, we have a track record in the installation of palletisers to help get the job done.
Beverage
When it comes to bottles and jars, we are experts in the palletising and de-palletising. Whether this is a medium or high-speed palletiser or a pick and place system, we have solutions to load, unload and feed into the bottling halls.
Pet Food
The pet food market in the UK is worth approximately £4 billion, and is growing. The requirements of this demanding industry are very similar to food and beverage and we have an in-depth expertise in the palletising these types of goods for efficient handling.
Aggregates & Grains
Aggregates and grains are notoriously difficult to palletise and often production facilities use manual labour to carry out the process. However, we have partnered with Europack who have mastered sack palletising perfect for this specific application.
Chemicals
Moving, packing and preparing chemicals for shipping, needs to be as safe as possible. Liquids are normally dispatched in drums, and solids in sacks, cartons and or bails. All of which can be problematic when palletising. Our solutions can be used to safeguard manual handlers.
Pharmaceuticals
Our partners are specialists in the field of pharma machinery, and we work with them to offer a full turnkey solution. From processing, through to blister packaging, cartoning and palletising, with track and trace functionality for peace of mind.
PALpack work with our UK clients to offer practical, technical advice when there is a need to automate palletising.
Experts in automation, robotics and engineering project management
Over thirty years' experience in the field
PALpack engineers are hands on throughout FATs and SATs
All our installations are offered with after sales service
We offer a UK based spares and service contract
Dave Wood
Managing Director
Check Out Our Work Process
Make an Enquiry
Get in touch - we are happy to discuss your requirements.
Develop a Scope of Work
We will identify and recommend the best possible solution for your automotive palletising needs.
Let's Make it Happen
We not only offer a sales service but work with you throughout the installation process. Our engineers are there to oversee the whole installation, from start to SAT.
What Our Customers Are Saying
Since our machine was installed last February our line efficiency has improved dramatically with little or no downtime recorded for technical issues and their after sales service is the best we have had from anyone in the 16 years of bottling production. What I like about Dave is that he's not a salesman but someone who has designed and built machines and has a wealth of experience in this field. He won't push something on you if it's not right for your business. I would thoroughly recommend Dave and PALpack to anyone looking for some automatic palletisation on their production lines.
PALPack installed our first purpose-built palletiser. It was our first venture into this level of automation and 10 months later we have just completed our first filling line. We are already seeing some of the required results in terms of reduced manning and everyone is impressed with the quality of the installation and the resulting pallet appearance. I would thouroughly recommend David and PALpack as partners in palletisation particularly for a business that is unfamiliar with this degree of automation.
In 2018 we ordered a large palletising system from Lita Palletisers in Italy. Our palletiser was also supplied with an integrated Tosa pallet wrapper.  I felt confident working with Palpack because their MD Dave Wood is someone I have known for a number of years. Palpack's approach to capital equipment sales, is one of a technical nature and they spent a lot of time measuring our shop floor, ensuring that the new equipment fitted into, what was a tight space. The machine was delivered on a Friday lunchtime, Palpacks engineers were on site waiting for the machine and by Sunday evening the whole system was installed, wired up and ready for commissioning by Lita Technicians. By Tuesday the machine was up and running and in full production. Since installation Palpack's back up and support has been exceptionally good and we are happy to work with Palpack again and we are currently working on a second installation using them.
PALpack Home