Palletisers
Palletisers have been used as part of the production line process for well over half a century. First used in the early 1950s, the primary role of the palletiser was to automate the stacking of products and goods onto a pallet.
The palletiser automates the stacking process that can otherwise be labour intensive and expensive, putting undue stress on workers. There are many types of palletisers used today, designed to be configured alongside the other production line facilities. Palletising is indeed a critical part of the manufacturing process.
Cartesian Palletisers
Cartesian or 'Pick and Place' palletisers are characterised by the structural beams and axes which are used to 'pick and place' the items.  These are very flexible machines and can move products in three directions, thus being used to create complex pallet patterns. Typically, one or two (sometimes more) products are collated on an infeed conveyor and collected with a gripping device, which then places them on to the pallet.
These types are palletisers are therefore low speed and low output.
The cartesian palletiser from Europack is capable to work on more lines simultaneously with single or multiple picking up heads, in order to guarantee the required capacity and satisfy many layout needs. Furthermore, every type of robot can be supplied with an interlayer and/or pallet picking up device installed on the picking up head.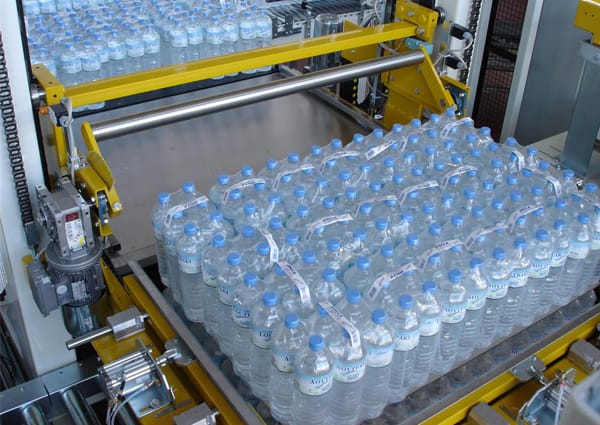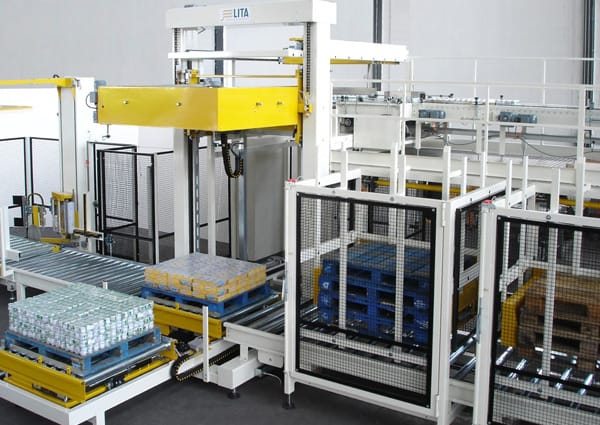 Layer Palletisers
Layer palletisers are used for higher speed applications. A layer palletiser collates a full layer of products or boxes onto a table, which is then placed onto the pallet. There are high to medium speed with a larger output. Up to 60 packs per minute are possible. Layer palletisers can be much more robust and are often favoured over 'pick and place' palletisers, where a conventional gripper would not be able to consistently handle the pack.
High speed or Medium Speed Palletisers
Depending on your speed of production, will depend on the type of machine offered, however, broadly speaking, if your production speed is under 20 cases per minute, then a simple pick and place machine will be suitable (Lita or Europack) Higher speed applications, may need a robot or a layer palletiser. With speeds of up to 60 packs per minute possible, on a Layer palletiser, we can accommodate most applications.
Often, we have been asked to supply a palletising system that can be fed with multiple production lines with different products on each. Once again, we can help, Clevertech are specialists in this field, often offering centralised robot cells which can handle up to 10 different production lines